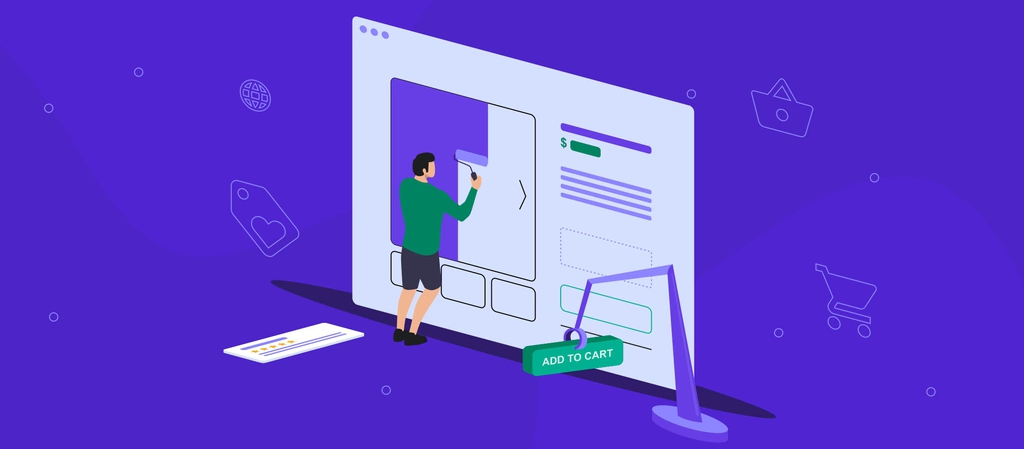 In this guide, we will get to know online stores in general. Then we move on to talking about online clothing stores in particular.
Online shop
An online shop, also known as an e-commerce store or online store, is a virtual platform that allows businesses to sell products or services over the internet.
It provides a convenient way for customers to browse, select, and purchase items from the comfort of their own homes or any location with internet access. Here are some key aspects of an online shop:
Product Catalog: An online shop typically displays a catalog of products or services, organized into categories or searchable by keywords. Each item is accompanied by a description, images, and pricing information to help customers make informed purchasing decisions.

Shopping Cart: Online shops usually incorporate a virtual shopping cart system. Customers can add desired items to their cart while browsing and continue shopping until they are ready to proceed to the checkout process.

Checkout Process: Once customers have finished selecting their desired items, they proceed to the checkout process. During this step, they provide shipping and billing information, choose a payment method, and review their order before finalizing the purchase.

Payment Options: Online shops typically offer a variety of payment options, such as credit/debit card payments, digital wallets, bank transfers, or other online payment gateways. The availability of payment methods may vary depending on the specific online shop and the region it serves.

Security: To ensure secure transactions, reputable online shops implement encryption and security protocols to protect customers' personal and financial information. This includes technologies like Secure Sockets Layer (SSL) certificates and encryption algorithms.

Shipping and Delivery: After an order is placed and payment is confirmed, the online shop prepares the items for shipping. They may have their own fulfillment centers or partner with third-party logistics companies to handle packaging and delivery. Customers are typically provided with tracking information to monitor the progress of their shipments.

Customer Support: Online shops often offer customer support services to address inquiries, provide assistance, and handle issues related to orders, deliveries, returns, or product information. Support may be provided through email, live chat, or phone.

Reviews and Ratings: Many online shops allow customers to leave reviews and ratings for products they have purchased. These reviews help other potential customers make informed decisions and also provide feedback to the online shop about product quality and customer satisfaction.

Mobile-Friendly: With the increasing use of smartphones and tablets, online shops are often optimized for mobile devices to provide a seamless browsing and shopping experience on smaller screens.

Popular examples of online shops include Amazon, eBay, Alibaba, and Shopify-based stores. Online shopping has become increasingly prevalent and offers convenience, a wide selection of products, competitive pricing, and the ability to shop from anywhere at any time.
Online store for clothes
The old retail way of shopping is gradually fading away, and online shopping for clothes has taken over the world by storm. An online store for clothes is becoming increasingly popular among consumers who are keen on efficiency, convenience, and effortless shopping.
The emergence of online stores for clothes has revolutionized the fashion industry by allowing fashion enthusiasts to access a broad range of fashion items from anywhere in the world without leaving their homes. This essay aims to explore the benefits of an online store for clothes, the advantages of using online stores, the potential drawbacks of online stores for clothes, and the future trends of online stores for clothes.
The increasing popularity of online stores for clothes is no surprise because online shopping offers a wide array of benefits. These platforms provide shoppers with the convenience of shopping whenever they want because online stores do not have opening or closing hours.
Additionally, online stores for clothes offer a more comprehensive variety of fashion products than traditional retail stores due to the absence of display constraints. It is easier to provide a more extensive selection of sizes, colors, and styles as virtual display space is not restricted as with traditional retail stores.
Online stores also allow customers to compare prices across different retailers quickly. This is beneficial as customers can check multiple sites for price comparisons and cheaper deals.
Additionally, this helps customers to save time, effort and money, as they don't have to walk around a traditional store physically to compare prices in different shops. Instead, they can do this with ease on their mobile devices or laptops on the go, whilst at work or traveling.
The home delivery feature of online stores for clothes is an added benefit. After making a purchase, customers can get their items delivered to their doorstep without having to leave the comfort of their home.
With quality control measures in place, including product pictures, descriptions, and customer reviews, customers have a high level of trust that the merchandise received is as described. Furthermore, the security of online transactions is paramount, and online stores provide secure payment channels (for instance, payment by debit/credit cards, PayPal, etc.) that protect the customer's financial data from cyber fraud and theft and guarantee privacy and convenience.
The customization feature of online stores for clothes is yet another advantage. Customers can personalize their clothes by selecting various colors, sizes, and fabrics. This allows customers to have ownership of the items purchased, giving them a sense of individuality. Customization also saves shoppers from the time and energy spent looking for clothes that align with their styles. So this feature helps create unique fashions customized to the preferences and styles of the individual shopper.
In contrast, some potential drawbacks of online stores are often pointed out. First, customers don't have the option of trying on clothing before purchasing it, leading to wrong measurements or unsuitable materials for their body types and skin tones. As a result, the potential for returns is higher when compared to traditional retail stores.
Second, the lack of human interactions between shoppers and sales reps (this is particularly the case when addressed by chatbots) can also be viewed as the opposite of a traditional in-person shopping experience.
Another potential drawback of online stores for clothes is the assumption that virtual display pictures are a faithful representation of actual clothes items, but this may not always be the case.
For example, product images may not accurately depict the fit, size, or material of a particular item, leading to buyer's remorse, customer dissatisfaction, and increased return frequency. However, online stores are working to address this issue by providing detailed product descriptions, high-quality images, and customer reviews that facilitate informed buying decisions by customers.
Despite the potential drawbacks, the future of online stores for clothes is looking bright. Currently, new technologies like Artificial Intelligence, Augmented and Virtual reality, and 3D modeling are being employed to provide more seamless, customized, and immersive online shopping experiences.
These technologies have transformed ordinary online stores into virtual reality stores where customers can experience fashion in a realistic, immersive shopping environment. Furthermore, online stores for clothes can leverage social media channels to drive their business growth by creating brand awareness, engaging customers, and facilitating transactions. Social media platforms such as Instagram, Facebook, Twitter, and Snapchat provide fertile grounds for retailers to drive customer acquisition and retargeting.
clothing shop online
A clothing shop online is an e-commerce platform specifically focused on selling clothing and related accessories through the internet. These online shops offer a wide range of clothing options for men, women, and children, catering to different styles, sizes, and occasions. Here are some key aspects of a clothing shop online:
Product Selection: Online clothing shops typically offer a vast selection of clothing items, including tops, bottoms, dresses, outerwear, activewear, swimwear, shoes, and accessories such as bags, jewelry, and hats. They may cater to different fashion preferences, from casual and trendy to formal and professional.

Size and Fit: Online clothing shops provide detailed size charts and measurement guides to help customers choose the right size. Some may also offer virtual fitting tools or recommendations based on the customer's measurements or previous purchases.

Product Descriptions and Imagery: Each clothing item is accompanied by detailed descriptions, including fabric composition, care instructions, and available colors or patterns. High-quality images from different angles are provided to give customers a clear idea of how the garment looks.

Filtering and Sorting: To enhance the shopping experience, online clothing shops often include filtering and sorting options. Customers can narrow down their search results based on criteria like size, color, price range, brand, and customer ratings.

Reviews and Ratings: Customers are often encouraged to leave reviews and ratings for clothing items they have purchased. These reviews can help potential buyers make informed decisions about the quality, fit, and overall satisfaction with the product.

Personalization and Recommendations: Some online clothing shops employ personalized recommendation systems that suggest clothing items based on a customer's browsing history, previous purchases, or style preferences. This feature can make the shopping experience more tailored and efficient.

Payment Options and Security: Online clothing shops offer various payment methods, including credit/debit cards, digital wallets, and sometimes cash on delivery. Security measures such as encryption and secure payment gateways are implemented to protect customers' sensitive information during transactions.

Shipping and Returns: Clothing shops online handle shipping and delivery of purchased items. They collaborate with shipping partners to ensure timely and reliable delivery. Additionally, they have clear return policies in place, allowing customers to return or exchange clothing items that do not meet their expectations or requirements.

Style Inspiration and Fashion Content: Many online clothing shops provide style inspiration through lookbooks, fashion blogs, or social media channels. They may feature fashion tips, outfit ideas, and articles on the latest trends to engage and inspire their customers.

Customer Support: Online clothing shops typically offer customer support through email, live chat, or phone to assist with inquiries, sizing questions, order tracking, and other concerns.
Popular examples of online clothing shops include ASOS, Zara, Nordstrom, H&M, and Revolve. These platforms have gained popularity due to their extensive clothing collections, convenient shopping experience, and often provide a seamless blend of online and offline shopping options.
clothes online
Shopping for clothes online has become increasingly popular in recent years due to the convenience and accessibility of online shopping. Online retailers offer a vast selection of clothing items, ranging from everyday basics to high-end designer pieces.
Many online retailers also
offer various sizes
, styles, and colors, making it easier for shoppers to find exactly what they are looking for. One of the biggest advantages of shopping for clothes online is the ability to compare prices and styles across multiple retailers. This allows shoppers to find the best deals and discounts, as well as to discover new brands and styles that they may not have otherwise known about. However, shopping for clothes online does have some drawbacks. One challenge is finding the right size and fit, as each brand may have slightly different sizing and fit standards.
Additionally, shoppers cannot try on the clothes before purchasing them, which can lead to disappointment if the clothes do not fit or look as expected. To mitigate these challenges, many online retailers offer detailed size charts and reviews from other customers, as well as flexible return policies that allow shoppers to return items that don't fit or meet their expectations.
Overall, shopping for clothes online can be a convenient and rewarding experience for those who enjoy browsing and comparing items from the comfort of their own home.
In conclusion, the emergence of online stores for clothes has revolutionized the fashion industry by providing easy, convenient, and hassle-free shopping experiences. Consumers now have access to more extensive selection and customized fashion products than ever before, which is beneficial for individual tastes, styles, and budgets.